- left column is under reconstruction -
Technology for Ballet
How Ballet Set Changes Work: The Bolshoi At Chapel Hill, North Carolina
Why Do We Doubt There Is Ever Less Work In Making A Tutu Than This?!
This tutu was made by YouTube video poster HikariHime29
She made this one to wear to a Lady Gaga concert, not to dance Odile, but we are told that she knows what she is doing.
This below is a video of New York City Ballet's costume shop. Go, Hikari…


.
Royal Ballet Does Global Ballet Simulcast, And English National Ballet Does Swan Lake In 3-D
The Royal Ballet some 18 months ago transmitted live ballets to theaters in 25 US states. They included The Sleeping Beauty, Romeo and Juliet, and Tales of Beatrix Potter.
And a year ago (images below) Sky Television filmed a performance of Swan Lake by the English National Ballet in 3D in the Painted Hall of the Old Royal Naval College, Greenwich.
The ballet was filmed using two of Sky's high definition cameras, with the two lenses recording separate footage for each eye. Viewers then wear special polarising glasses which give the impression the ballet is in three dimensions.
The 24 corps ballerinas wearing those 3-D glasses is a joke, of course. Get to watch the Swan Lake white scenes in 3-D? Wow. That would be a sight to behold. We will keep an eye out for any possible showing in the US.
By the way, the Mariinsky and Paris Opera Ballet use 32 ballerinas in La Bayadere's Kingdom Of The Shades and the effect is quite awesome. Perhaps Kevin McKenzie might be persuaded to do the same?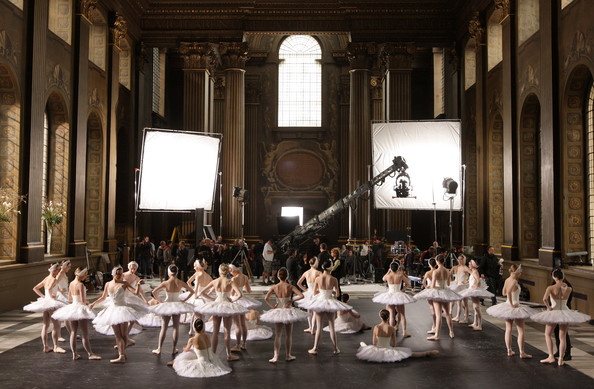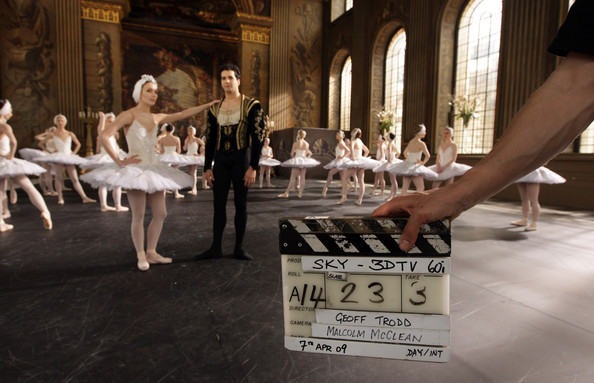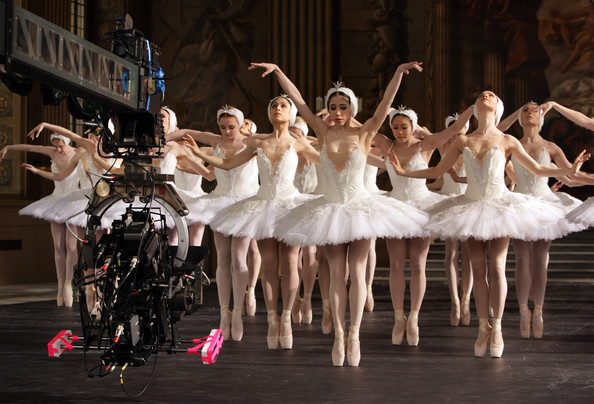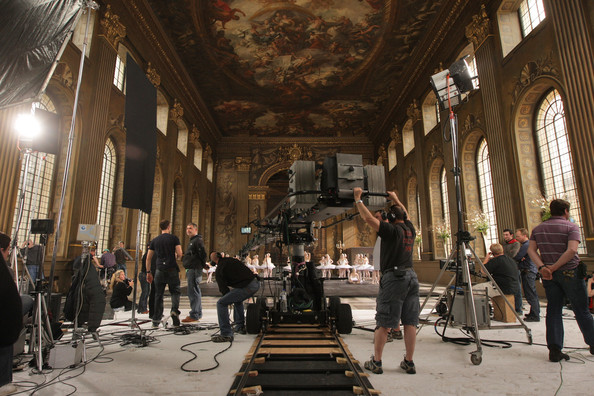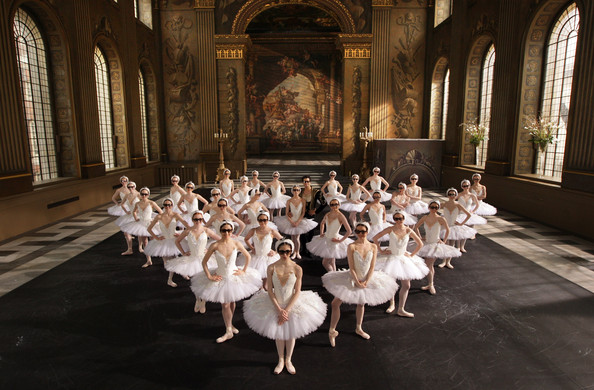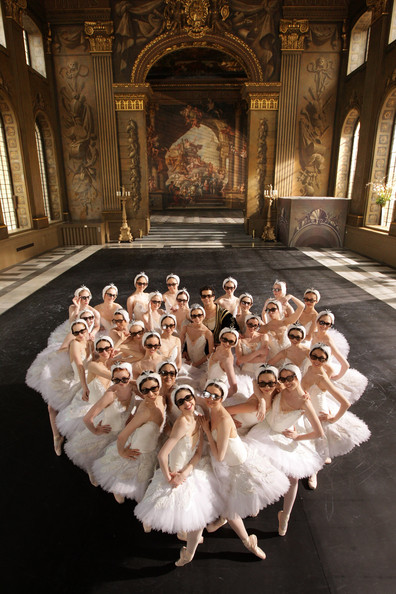 Report On The World's First-Ever 3-D Live Ballet Telecast By The Mariinsky Ballet
Maya Plisetskaya opened the broadcast with some words of encouragement.
THAT would have guaranteed a large audience! These are some excerpts below from Diana El-Bakri's report for the Russian news service of the TV network Novosti
Tele-Revolution: Mariinsky Ballet In Live 3-D Broadcast

A breakthrough into a new technological reality was made today by an initiative of the Mariinsky Theater. For the first time in the world, a live TV broadcast of ballet in 3D was presented in Russia and Europe.

"This event is unique, as today for the first time in the world we can see not just a ballet performance, but ballet in 3D… It's especially pleasant to us that the first Russian 3D transmission is brought to life with the help of the technologies developed and implemented in Russia," said the PR director of General Satellite, which provided receivers, without which the breakthrough wouldn't have been possible.

"And it is very pleasing to us that we start this important era in the history of television not with a football match but with an art event – with Mariinsky ballet."

The Artistic Director of the Mariinsky Theater, Maestro Valery Gergiev, and renowned ballerina Maya Plisetskaya opened the concert with greetings and expressed their gratitude to General Satellite, their partners and the pioneers of 3D television in Russia and Eastern Europe. Together they invited the audience and their younger colleagues into the world of new technological experiences.

A special presentation of the ballet broadcast was also organized in Moscow.

"For me, a person who spent a significant part of my life with a TV – at first it was a black-and-white television, later it was a colored Rubin and it often showed ballet, which has always been an indispensable part of Soviet cultural life – this is definitely an absolute miracle, I have a feeling that something has changed radically," said journalist and musical theater historian Ilya Kukharenko. "It is of course a new page in history. I myself would like to see opera shows in 3D. That would be interesting."

This breakthrough changed the history of television and gave a new turn not only to covering theatrical shows, but all other types of TV content, such as sports or live nature shows.

The signal was transmitted in an open format, so that everyone who had special equipment and subscribes to HD satellite could have gotten the impression of being present at the Mariinsky Concert Hall while sitting in front of their own home television.

As part of the "The Year of Russia" being celebrated in France, the Mariinsky ballet gala concert was also shown in 3D at a special reception in the residence of the Russian ambassador in Paris.
Page 1 of 1 pages