- left column is under reconstruction -
Ballet In Strange Places #4: New York City Ballet Dancers At, Well, Lincoln Center
Technically very high quality - after it starts, at bottom-right, change resolution to 720p and full-screen it by clicking on those four arrows
Ballet Favorites Of Video Posters And Watchers: Take A Look At Polina Seminova
Opera videos exceed ballet videos on the Internet by about three to one - but some of those ballet videos sure get a lot of looks.
Polina Smeionova's here is ballet's most successful video ever. It has achieved close to 4 million looks in all versions.
Ballet In Strange Places #3: "Camellias" Creator John Neumeier's Hamburg Ballet
The Royal Ballet's "How Ballet Evolved: The First Four Centuries"
Ex NYC Ballet Dancer Now Presents Online Classes And Workouts
Tuesday 12 July: First 3D Ballet In Movie Theaters In The US - Giselle By The Mariinsky
Our Review

First viewing at the noon showing was somehow less than we expected - and at 7:30 we found out why. At noon, the audience was quite small (three dozen) and we were all bunched up in the front one-third of the seating. That seemed the best place to be for the 3D.

But at 7:30 the theater was mostly full when we arrived (several hundred) and we ended up in the center, two rows from the back. At that distance and height, the full 3D effect cuts in, and many of the scenes are absolutely breathtaking. Not least Natasha Osipova, light as a feather and really living her part, in extreme close-up.

The shots of the spirits in 3D in the white scenes (you can see one in 2D in the video below) had some in the audience saying "wow!". Best camera angle seemed to us to be from the orchestra seats, which was the angle about half the time. The other half it was was up in first or second tier, and that tended to diminish the dancers, and produce some odd perspectives.

Leads and corps excellent, costumes very nice, sets okay, lighting and sound might have been enhanced. But for ballet, brilliant potential. Roll on, new ballet DVDs and YouTubes all in 3D. We'd be surprised if it takes more than 3 years.
A Royal Ballet Daily Class At The Royal Opera House
This realtime video of a live class is one hour and 15 minutes long
London's Royal Ballet: Some Highlights Of Being A Principal
National Ballet of Canada's Jillian Vanstone: A Day In The Life Of A Ballerina
Ballet In Strange Places #2: The Anaheim Ballet In Anaheim East of Los Angeles
Ballet In Strange Places #5: An English National Ballet Swan Lake In The Gardens Of Versailles
The swans too briefly seen here in the white scenes appear to number 32 which is the ENB's conventional swan count
Ballet In Strange Places #1: Angel Corella's Corella Ballet In Segovia North of Madrid
How Ballet Set Changes Work: The Bolshoi At Chapel Hill, North Carolina
Tutus: There's Been No Other Garment Like Them In History…
Why Do We Doubt There Is Ever Less Work In Making A Tutu Than This?!
This tutu was made by YouTube video poster HikariHime29
She made this one to wear to a Lady Gaga concert, not to dance Odile, but we are told that she knows what she is doing.
This below is a video of New York City Ballet's costume shop. Go, Hikari…


.
Quick - Very Quick - Tour Of The Backstage Of London's Royal Opera House
Royal Ballet Does Global Ballet Simulcast, And English National Ballet Does Swan Lake In 3-D
The Royal Ballet some 18 months ago transmitted live ballets to theaters in 25 US states. They included The Sleeping Beauty, Romeo and Juliet, and Tales of Beatrix Potter.
And a year ago (images below) Sky Television filmed a performance of Swan Lake by the English National Ballet in 3D in the Painted Hall of the Old Royal Naval College, Greenwich.
The ballet was filmed using two of Sky's high definition cameras, with the two lenses recording separate footage for each eye. Viewers then wear special polarising glasses which give the impression the ballet is in three dimensions.
The 24 corps ballerinas wearing those 3-D glasses is a joke, of course. Get to watch the Swan Lake white scenes in 3-D? Wow. That would be a sight to behold. We will keep an eye out for any possible showing in the US.
By the way, the Mariinsky and Paris Opera Ballet use 32 ballerinas in La Bayadere's Kingdom Of The Shades and the effect is quite awesome. Perhaps Kevin McKenzie might be persuaded to do the same?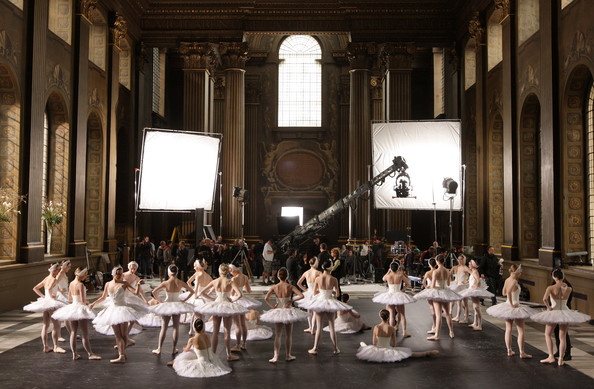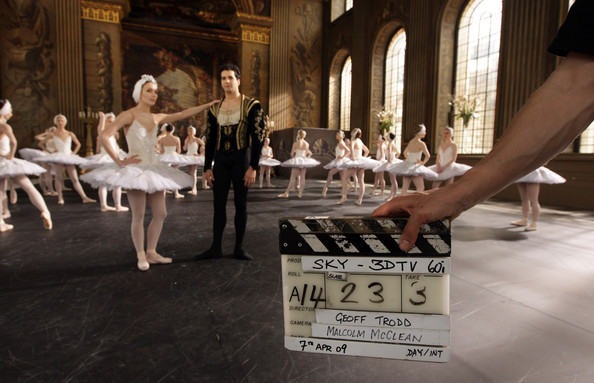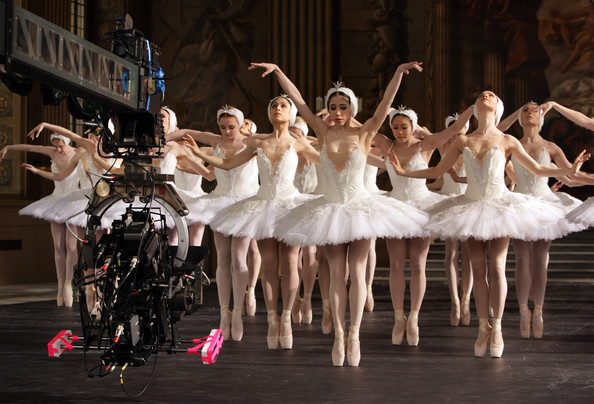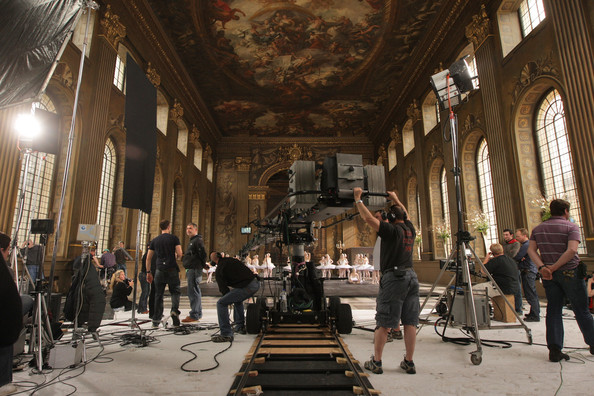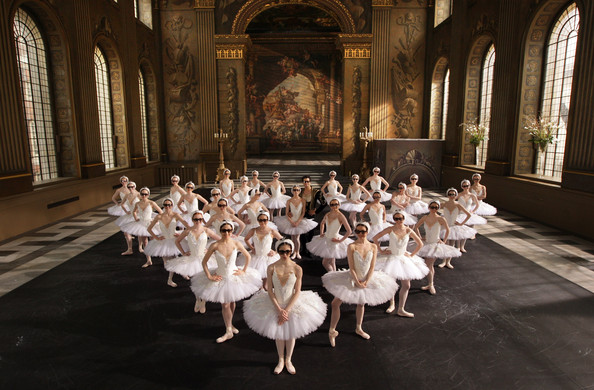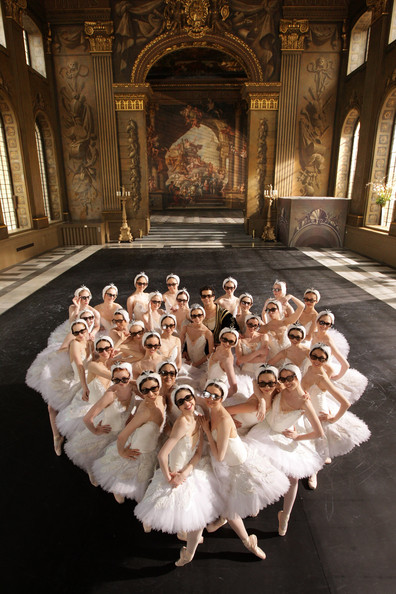 Ballet Favorites Of Video Posters And Watchers #2: Take A Look At Alessandra Ferri
At close to three million looks now Polina Seminova's video is the most-watched video in history by a wide margin of a solo ballet dancer.
Alessandra Ferri, then a principal with the ABT, and a favorite partner of Julio Bocca and Roberto Bolle, is seen here with British pop singer Sting.
At half a million looks this seems for now the most-watched solo video of an ABT dancer. And her Carmen pas de deux seems the most-watched duet.
By the way, neither are in high definition format (720p or 1080p) needed to full-screen them and separate them out from the pirate videos that ballet is plagued with. There are ways now to convert the originals.
Broken Today, In Central Park, A New Guinness Record: Most Ballerinas On Pointe At One Time
Below: A compelling video report by the New York Post which shows Michele Wiles and Craig Salstein of the ABT
Below: An excellent onlooker video of the 241 ballerinas on pointes event which wast posted by BalletAmbassadors
Below: Three photographs of the event by New York Times photographer Timothy A Clary for AFP/Getty Images
Update: Gene Schiavone has linked to a DNAInfo slideshow here.
Update: A report in the New York Daily News reflects the participants' enthusiasm, it says 241 actually participated, and it includes a new photograph.
News sites are reporting that 230 dancers set a record of 1 minute and 7 seconds on pointes, and this will be entered in the Guinness Book Of Records. Well done.
Gene Schiavone's Facebook pages for the world record attempt with Gene's official photographs when ready can be found here and here. We have asked Gene to send us a high-resolution shot, and in the Acrobat version that blows up when you click, many dancers should be identifiable.
The videos below are for two of the earlier Guinness records, 191 and 220 ballerinas on pointe, and if there is a video put online for the previous record (226) and today's new new record, we will post those as well.
1) Here combined with the largest-ever class, in Pretoria, South Africa, 18 November 2007 (191)
2) The Youth America Grand Prix competitors here in Manhattan on 18 May 2009 (220)
It's Catching! The Wonderful New Water Ballet, Right Where The ABT Performs


Part of the $1.2 billion renovation now happening of all of Lincoln Center. Hmmm. We seriously need to replace the night-time video above with something much better.
When the fountain is dancing full-force at night, it is truly spectacular.
The Great Ballet Photographer Gene Schiavone Dips His Toe In The Water With YouTube
Lincoln Center Season Over The ABT Heads For Los Angeles: Moods Of That City
Report On The World's First-Ever 3-D Live Ballet Telecast By The Mariinsky Ballet
Maya Plisetskaya opened the broadcast with some words of encouragement.
THAT would have guaranteed a large audience! These are some excerpts below from Diana El-Bakri's report for the Russian news service of the TV network Novosti
Tele-Revolution: Mariinsky Ballet In Live 3-D Broadcast

A breakthrough into a new technological reality was made today by an initiative of the Mariinsky Theater. For the first time in the world, a live TV broadcast of ballet in 3D was presented in Russia and Europe.

"This event is unique, as today for the first time in the world we can see not just a ballet performance, but ballet in 3D… It's especially pleasant to us that the first Russian 3D transmission is brought to life with the help of the technologies developed and implemented in Russia," said the PR director of General Satellite, which provided receivers, without which the breakthrough wouldn't have been possible.

"And it is very pleasing to us that we start this important era in the history of television not with a football match but with an art event – with Mariinsky ballet."

The Artistic Director of the Mariinsky Theater, Maestro Valery Gergiev, and renowned ballerina Maya Plisetskaya opened the concert with greetings and expressed their gratitude to General Satellite, their partners and the pioneers of 3D television in Russia and Eastern Europe. Together they invited the audience and their younger colleagues into the world of new technological experiences.

A special presentation of the ballet broadcast was also organized in Moscow.

"For me, a person who spent a significant part of my life with a TV – at first it was a black-and-white television, later it was a colored Rubin and it often showed ballet, which has always been an indispensable part of Soviet cultural life – this is definitely an absolute miracle, I have a feeling that something has changed radically," said journalist and musical theater historian Ilya Kukharenko. "It is of course a new page in history. I myself would like to see opera shows in 3D. That would be interesting."

This breakthrough changed the history of television and gave a new turn not only to covering theatrical shows, but all other types of TV content, such as sports or live nature shows.

The signal was transmitted in an open format, so that everyone who had special equipment and subscribes to HD satellite could have gotten the impression of being present at the Mariinsky Concert Hall while sitting in front of their own home television.

As part of the "The Year of Russia" being celebrated in France, the Mariinsky ballet gala concert was also shown in 3D at a special reception in the residence of the Russian ambassador in Paris.